Grins & Pickin's




CampFarm
Where you make fun happen!
Over many years of camping, it was just crazy having to pay extra if you had more than two kids, or more than four people, if you brought your dog, if you wanted to stay an extra hour or if you needed to pitch an extra tent. Enough of the craziness! It just seems more fair to not nickle and dime everyone and to have one set price by the carload.
Since our farm has driving lanes on fields, prices reflect the wear/tear of use & the number of wheels/weight. Bikes & motorcycles are $6 each, carloads are $20, pop-ups are $25, small rvs are $30.
Our hours are different too
It was always frustrating to me to wait for check in after 1:00 and check out before 11:00 and not even get a full 24 hours in a camp stay. Not here...you get your money's worth, we have farm hours! Check in is at daybreak and check out is at dusk.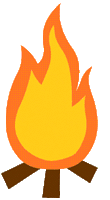 Please call or go to Contact Us and send an email if there is a special site
that you would like to reserve. Thank you!
The barn style cabin shed has 2 cots to sleep 2 people (holds 250 lbs), 2 overhead lofts to store your gear, a large campfire grate, tongs, spatula, cooking sticks, a picnic table & fire ring. This site is closest to the fishin' hole & is in mostly shade with part sun.
Goes for $35 per night, $5 cleaning charge, no minimum stay required.
​
Sorry, no pets allowed in the buildings, including The Lofted Barn.
Please call 740.625.6011 for availability.